Funding:
HAZITEK STRATEGIC Programme. SPRI, Basque Government

Co-financed by the Basque Government and the European Union through the European Regional Development Fund 2014-2020 (FEDER).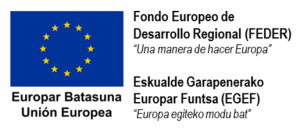 Project:
Intelligent and sustainable design and manufacture of new products with surface processes for optoelectronic applications" and acronym "INFOCUS".
File no: ZE-2022/00001
Project information:
Start and end date:
Start: March 31, 2022
End: December 31, 2024
Overall budget:
€856.400,400
Coordinator:
FAGOR AUTOMATION, S. COOP
Number of participants:
11
Description and objectives:
The increase in demand for functional products and components in optoelectronic applications involves different strategic sectors for the Basque Country, such as the automotive, capital goods and others. The generation of new knowledge and technological solutions that enable the incorporation of new functional surfaces will make it possible to add greater value to products, as well as to advance in the capacity of Basque companies to participate in the design phases of new products and obtain a better positioning within the supply chain.
PVD (Physical Vapour Deposition) coating technologies are key to meeting market demands for new optoelectronic applications in a sustainable way. They do not generate waste and allow to deposit, in a controlled and homogeneous way, combinations of nanometric layers of different composition (metallic and dielectric) to generate surfaces with controlled and precise response to electromagnetic radiation on different types of substrate. However, the use of these technologies still presents a number of challenges that need to be overcome in order to realise their full potential in the development of new applications.
The main objective of InFOCUS is to promote the integration of the participating Basque companies in new value chains and increase their competitiveness through the adoption of Smart Industry strategies that integrate new knowledge of PVD processes and new technological solutions for the design, ramp-up and efficient and sustainable manufacturing of new optoelectronic applications with high added value for different sectors such as automotive or capital goods.
To achieve this overall objective, sustainable PVD functional surface processes and characterisation and inspection methodologies for new optoelectronic products will be developed following a 'Quality-by-Design' approach to ensure quality from early design stages. InFOCUS will generate new knowledge of the process and design of new PVD coatings and structuring processes. This technological solution will generate new processes and surfaces to address optoelectronic needs in capital goods and component applications.
In addition, a digital environment supported by digital twins will be implemented to accelerate, flexibilise and adapt the response to the demand for new products, as well as to feedback the design process within the framework of the 'Quality-by-Design' strategy (Ramp-up Phase). InFOCUS will combine the use of experimental data with Artificial Intelligence techniques for the generation of new process models (digital twin) to reduce the time needed for the ramp-up of new optoelectronic products: these models will feed back into the design phase of new products.
Another of the main axes of the project is the implementation of a zero-defect and zero-waste manufacturing strategy for optoelectronic surfaces, based on online control, quality assurance and the application of Artificial Intelligence for the diagnosis, prediction and prevention of defects and the generation of knowledge about their possible root causes in order to provide feedback to the design phase within the framework of the 'Quality-by-Design' strategy. (Manufacturing Phase). InFOCUS will integrate interoperable process monitoring systems to support the detection phase and will develop: new Artificial Intelligence based models for the diagnosis of possible root causes and the prediction and prevention of defects.
Participants:
PARTICIPATING COMPANIES:
FAGOR AUTOMATION, S. COOP
MAIER, S. COOP
SATLANTIS MICROSATS S.L.
ANÁLISIS Y SIMULACIÓN, S.L.U.
XABET DIGITAL SOLUTIONS S.L.
NEURTEK S.L.
CONSTURCCIONES MECÁNICAS JOSÉ LAZPIUR, S.L.
SOLID MACHINE VISION, S.L.
RESEARCH CENTERS:
FAGOR AOTEK, S. COOP
TEKNIKER
MAIER TECHNOLOGY CENTRE