Funding:
HAZITEK Program. SPRI, Basque Government

Co-financed by the Basque Government and the European Union through the European Regional Development Fund 2021-2027 (FEDER).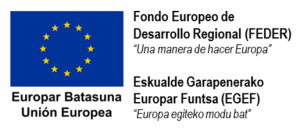 Project:
"Research on Technologies for the programming of Modular and Reconfigurable Manufacturing Systems" and acronym "ORKESTRA".
File no.: ZL-2022/00828
Project information:
Start and end date:
Start: May 1, 2022
End: December 31, 2024
Overall budget:
€ 2.631.100,65
Coordinator:
ANALYSIS Y SIMULACIÓN
Number of participants:
6
Description and objectives:
The proper functioning of any organisation is directly linked to the quality with which its processes are carried out. In this sense, the standardisation of processes and products is highly widespread. Machine tools are no stranger to this, and it is becoming increasingly common to find a standardised product catalogue for a range of applications. This standardisation allows companies to make the right use of available resources to improve production quality, increase productivity and thus maximise efficiency. However, while at the hardware level standardisation is widespread, it is rarely implemented at the software level. In other words, complex ad hoc control software needs to be developed to make the entire line work and fit together.
In this sense, the ORKESTRA project proposes to conceive manufacturing systems as encapsulated elements grouped within an ecosystem that facilitates and homogenises the interoperation and control of the entire manufacturing line. Basically, this ecosystem will be fed by mechatronic elements that are combined under the same software capable of governing them to meet the needs of the line, just as an orchestra conductor directs the different instruments or players that make up the orchestra to meet the needs of the musical work in question.
Participants:
PARTICIPATING COMPANIES:
ANÁLISIS Y SIMULACIÓN (LÍDER)
FAGOR AUTOMATION S. COOP.
DIMECO
IBARMIA
RESEARCH CENTERS:
TECNALIA
FAGOR AOTEK S. COOP.